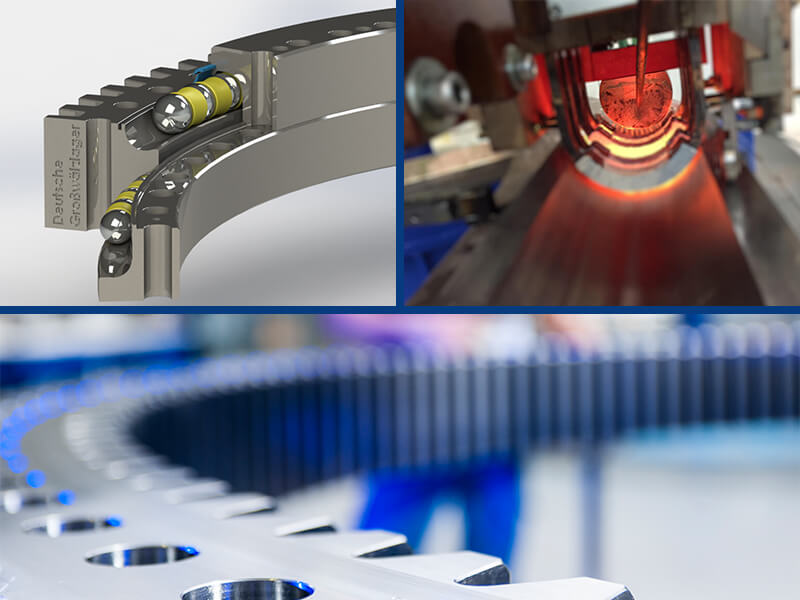 DGWL
- Your partner

We manufacture high-quality roller and slewing rings. With our modern production plant we can quickly produce your slewing and roller bearing connec­tions up to 6000 mm diameter. We offer the complete service for your require­ments: from the initial idea to the imple­men­tation — for all areas of application.

Our roller and slewing rings and sprockets are manufac­tured with European top quality in our Rostock plant.
In addition, we offer a complete portfolio for your require­ments with our contract work.

Short reaction and production times as well as an outstanding service makes us an ideal partner for your project.
An overview of our services
Products:
Slewing bearings
Single-row and Multi-row ball bearings


Gear rims
Wage labour:
Induction hardening

Drilling and Grinding
Services:
Inspection

Recon­di­tioning

On-Site Support
Machinery


CNC

drilling center for gearcutting and drilling operations
With our high-precision vertical lathes with driven tools, compo­nents up to an outside diameter of 6,000 mm can be mechan­i­cally processed.
Our modern machinery enables us to turn, mill, drill, gear-cut and grind your compo­nents in the highest quality.
In order to offer our customers the greatest possible flexi­bility, we rely on the premium class from Siemens, the Sinumerik 840D sl.